Lifespan Respite WA Coalition
Coalition meetings include family caregivers, public and private agency staff, and advocates across the state. We aim to support individuals from a cross-section of ages, cultural or ethnic backgrounds, and needs or disabilities of the individuals needing care.
We invite you to join us at our next meeting, online and by phone. To receive a meeting invitation please fill out the form below. The next meeting will be March 23, 2023 at 1:30 PM.
Sign up for meeting notifications, notes and Zoom link:
Whether or not you are on our mailing list, you can support family caregivers in Washington State by circulating the links for the Lifespan Respite Voucher and for those interested in becoming a respite provider.
Share! Lifespan flyer (NEW!) and video in English and Spanish: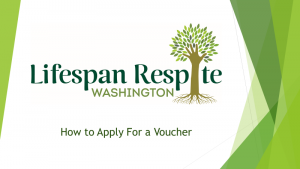 In English and Spanish:
YouTube Link, English (close captions) Transcript, English
YouTube link, Spanish (close captions) Transcript, Spanish
Meeting Notes -News, Events, Resources from the membership
Coalition Meeting Notes September 2022
Coalition Notes, Resources, Announcements March 2022
Coalition Meeting Notes January 2022
Newsletter
About
Most State Respite Coalitions are grassroots membership organizations composed of state and local, public and private organizations, which represent individuals with disabilities or chronic conditions of all ages; family caregivers; community and faith-based organizations and respite, social service and health care providers and advocates. Most often their activities are focused on advocacy, networking, and public education. They may be run by volunteers or paid staff.
In Washington State, we have the Lifespan Respite WA Coalition. We meet to share information, updates, best practices, and to learn from one another. We occasionally host training sessions on respite-related topics.