Resources for LGTBQ+ Elders
May 19, 2022
LGTBQ+
(Lesbian, Gay, Transgender, Bisexual, Questioning/Queer, "+"-indicates that this acronym expands to include individuals of diverse identities relating to gender, identity, sexuality, and relationships.)
SAGE, Advocacy & Services for LGBTQ+ Elders, says "We're a national advocacy and services organization that's been looking out for LGBTQ+ [their acronym] elders since 1978. We build welcoming communities and keep our issues in the national conversation to ensure a fulfilling future for all LGBTQ+ people".
Among their many resources and program areas is the National Resource Center on LGBTQ+ Aging, covering:
Caregiving
LGBTQ+ inclusion and cultural competency
Elder abuse and neglect
Social security, Medicare, and Medicaid
Health care
Financial security and retirement
Housing
HIV/AIDS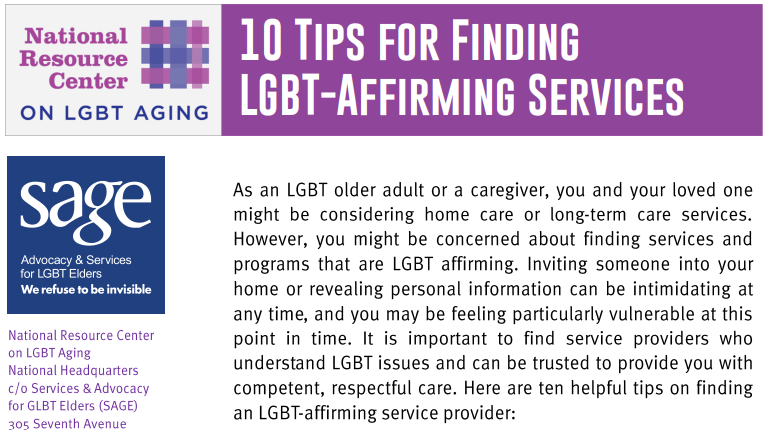 They offer a tip sheet for Finding LGBT+-Affirming Services
The WA State SAGE Affiliate is SAGE Olympia. Contact them through their website at http://sageolympia.org/contact-us/.